Experience the Excellence of Ezee's Electronic Cigarettes
In the realm of vaping, only exceptional standards suffice. Ezee stands committed to enhancing every aspect of the vaping journey, pushing beyond the usual. Through painstaking design and an unwavering commitment to excellence, we've introduced some of the market's most exceptional electronic cigarettes. As we serve the USA and expand our footprint across seven European nations, as well as Japan and the UK, our stature as a premier e-cigarette brand continues to grow.
Craftsmanship, Manufacturing, and Peerless Quality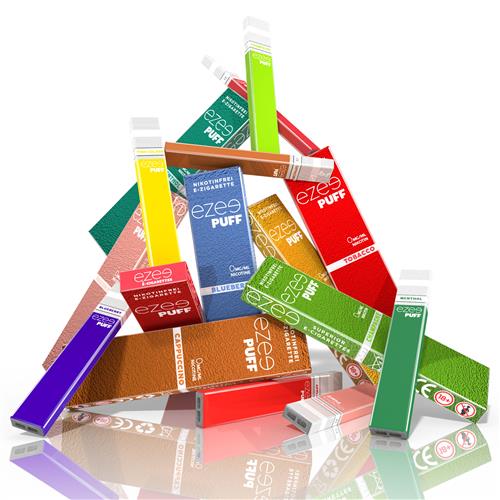 Ezee's electronic cigarettes epitomize perfection. Each is meticulously crafted, upholding the strictest quality measures, and assessed for peak functionality. They represent more than mere products; they symbolize our zeal, ingenuity, and unwavering pledge to bring only the finest to our clientele.
Variety in Nicotine Levels and Timeless Flavours
We honor and cater to diverse vaping preferences. Whether you lean towards nicotine or opt for its absence, our offerings are custom-made for you. Experience the deep, iconic flavors of tobacco and menthol, encapsulating the spirit of conventional smoking while enjoying the perks of contemporary vaping.
Presenting: The Ezee Puff+ Collection
The Ezee Puff+ assortment enriches our selection. A palette of eight enticing flavors guarantees a wave of zest and thrill with each inhalation. From the zesty Pink Lemonade, lush Fruit Jam, refreshing Orange Mint, sugary Blueberry, sharp Apple, rich Cappuccino to our classic Tobacco and Menthol – there's a flavor for every taste bud. Embark on a flavor adventure with Ezee Puff+.
Opt for Ezee and redefine your electronic cigarette adventure. Ascend your vaping experience now.