Experience Puffbar Excellence: Distinction, Diversity & Delight
In the rapidly changing vaping landscape, tailoring solutions to cater to diverse tastes is paramount. Our online marketplace is a mecca for puffbar aficionados, presenting a handpicked assortment of superior products designed to enhance each vaping instance.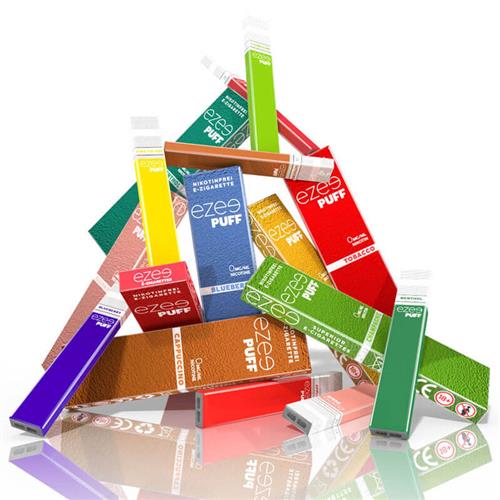 Ezee: A Leader in Rechargeable Puffbar Tech
Exemplifying the zenith of rechargeable puffbar advancements, Ezee fuses elegance with practicality. Crafted for those with a refined palate, its chic look and potent functionality have cemented its status among discerning vapers. Whether you're drawn to the rich Tobacco or invigorating Menthol, Ezee guarantees a premium puffing experience.
Ezee Go & Puff+: Peak Disposable Ease
For the on-the-go individuals who prioritize simplicity and mobility, our disposable lineup offers two distinguished options. Ezee Go is the wanderer's ally, making sure a fulfilling vape is always close at hand. But for those who desire a splash of taste, Ezee Puff+ steps up. Boasting 8 dynamic flavors, from the tangy Orange Mint, cool Pink Lemonade, sumptuous Fruit Jam, creamy Cappuccino, juicy Blueberry, fresh Apple to the evergreen Tobacco and Menthol, it pledges a sensory adventure with every pull.
Ezee Pod+: The Beacon of Refillable Mastery
Meet Ezee Pod+, our newest breakthrough in vaping ingenuity. This refillable puffbar system exemplifies luxury combined with efficiency. Each pod offers around 600 splendid puffs, encapsulating our dedication to delivering unmatched vaping escapades. What truly distinguishes it is the flavor variety and the choice between nicotine-infused and nicotine-free versions.
Our steadfast dedication goes beyond mere product supremacy. We're renowned for our stellar customer care, ensuring every inquiry and issue is tackled swiftly. Every item in our roster meets the strictest standards, adhering to all pertinent regulations. So, when you select our puffbars, you're not merely choosing a device; you're joining a community that cherishes excellence, fulfillment, and reliability.